Back to all news stories
Architecture and Urban Planning
"Money Head" latest public art exhibition at U-M space on Selden and Woodward
By Greta Guest
Yvette Rock explores our nuanced relationship with money in her "Money Head" exhibition now on view through Feb. 5 on Selden Street, near the corner of Woodward Avenue.
The public art exhibition, which began in November, features the work of Detroit artists and designers at the Michigan Research Studio/ArcPrep space. The Michigan Architecture Prep program is Taubman College's semester-long program that introduces juniors in the Detroit Public Schools to architecture and urbanisms. It has gone virtual since the onset of the pandemic.
"Normally this space is filled with the creative work of high school students interested in design–and the giant windows enable pedestrians to benefit from this energy," said Nick Tobier, a professor of art and design in the Penny W. Stamps School of Art & Design. "While we are not able to use the space for in-person work, the opportunity to share the creative output of Detroit's artists and designers can continue to enrich this ground level streetscape."
The exhibits, curated by Tobier, have also featured the work of Made in Local and Stef-n-Ty.
Rock, a University of Michigan alumna with a Master of Fine Arts in painting, said: "Money Head is a staged photographic and performance series that explores the complex role of money in our lives — from its influence on those who lack it to those who abuse its power."
The "Money Head" headpiece can be opened and closed. Inside the headpiece, Rock placed objects collected over the course of a few years. "These objects are placed around the staged photographic/performance scene. Some objects include: a copy of the Declaration of Independence, a stuffed animal in the form of cow, a small heart-shaped brick found from the original construction site of Detroit's Q-Line, and a "Money Head" doll I made."
Previous exhibitions in the space include: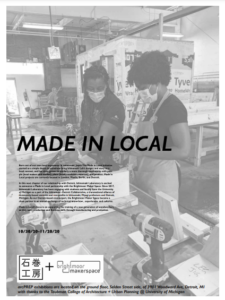 Made in Local: Designed in Japan, Built in Detroit, by Ishinomaki Lab + Brightmoor Maker Space. Since 2017, Ishinomaki Laboratory has been engaging with students and faculty from the University of Michigan. The Brightmoor Maker Space and the lab came together for an annual exchange of technical know-how, experiences and cultures. Through the Made in Local partnership, the lab supports the training of a new generation of woodworkers as they learn production and business skills through the manufacturing and promotion of our designs. Products will initially be made using pine and made available for sale in the Detroit Metropolitan Area.
Stef-n-Ty displayed its one-of-a-kind skullies + funky hats for women & men, made from upcycled and vintage textiles, Ty's tubular paintings and a selection of cloth masks made in collaboration with Artists and Allies. Artists and Allies is an alliance of artists and activists responding to the health disparities experienced by residents and healthcare workers in Detroit.
More info:
Nick Tobier
ArcPrep Exhibitions
Michigan Architecture Prep (ArcPrep)
This story was originally published in U-M Detroit News + Stories.