The MORE Show
Tis the season of senior art shows and, really, what could be better? All month long, you will be perusing free exhibitions of preprofessional work. It will be displayed all across campus: The Work Galleries, The Jean Paul Slusser Gallery, The Ann Abor Art Center, The Warren Robins Gallery, and more.
Two life long friends and freakishly talented art students, Ellen Rutt and Megan O'neil, are putting together thesis's of their four years of work  in the School of Art and Design.  The title of the show, The MORE Show, is an acronym of their initials (see Ellen's graphic design on the poster below for a better idea of how that works). Unlike most other senior thesis shows, this one will be held off campus. The two found a vacant warehouse on South Industrial Highway (by RoosRoast coffee) across the street from the ReUse center, and refurbished it for their purposes. After much trash sorting, wall scrubbing, sweeping, painting and repainting, the space is now gallery ready. Not only are the canvases a part of their exhibit, but the very space itself.
It is fitting that this particular show would take place across from the ReUse center because the theme is closely tied to environmental justice and sustainable creativity. "MORE art, less waste." As many aspects of the exhibition as possible have been locally sourced and reused or recycled. For example, the opening reception will feature locally farm-grown snacks and appetizers served on reusable plates and utensils. Even the musicians who will be playing live music  are Ann Arbor locals.
Not only that, the entire assembly has been a result of inter-talented trade; the cost of the production has been internalized through artistic cooperation. By that, I mean Ellen and Megan are paying their collaborators with art, not cash. As a graphic designer, Ellen has the ability to do all sorts of snazzy things for business people who need to look good on paper. In exchange for writing this article, she jazzed up my resumé using InDesign; she did the same for the photographer who will document the reception, and the musicians, who are coming out with a new CD soon (Fables by Ben Rolston), are receiving much advice on the color palette for the album art.
Ellen's work is based in graphic design while Megan's is in large scale oil and acrylic paint. She mostly paints figures but has an array of other pieces as well (I even did some nude modeling for her to help her prepare for the show and she traded me with a print. At first I was nervous, but Megan is so passionate about and deft with crafting the human form that her translation of my body into painting was an enlivening and surprisingly comfortable experience). You may recognize Megan's work from a mural she was commissioned to paint about the  Ann Arbor Farmer's Market. As for Ellen, you may recognize her work from the pamphlets for the "Arts at Michigan" program or from The Vintage Twin, the revamped clothing store that used to be on South University (but now operates online). These ladies are preprofessional artists in the works. Be sure to ask for an autograph when you see them at their show; they won't forget you when they're famous.
Details on the Don't Miss Show:
Opening Reception:
Saturday, April 14th 8pm,
1080 Rosewood, Ann Arbor 48104
Live music and refreshments
Click Here for directions
Additional gallery hours:
Monday April 16th- Friday April 20th
11am-5pm
AND! Furthermore, there will be  taxi shuttling students between The MORE Show and other off campus senior thesis opening receptions happening same night: a free ride departs every 15 minutes from 8-11 pm at the Cube behind The Union, The Ann Arbor Art Center on Liberty and Main Street, and on Rosewood where The MORE Show will be held.
Finally, to get more info straight from the artists themselves, check out the website: www.erutt.com
Attend the event on Facebook!
And be sure to pop into other exhibits this month. Info at the Arts at Michigan Website here.
Below are images of Ellen and Megan hard at work in the warehouse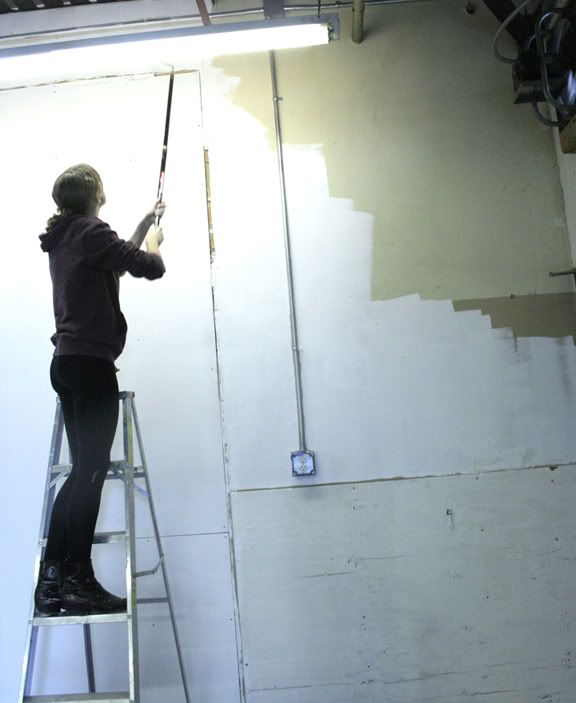 Samples of Ellen and Megan's artwork respectively